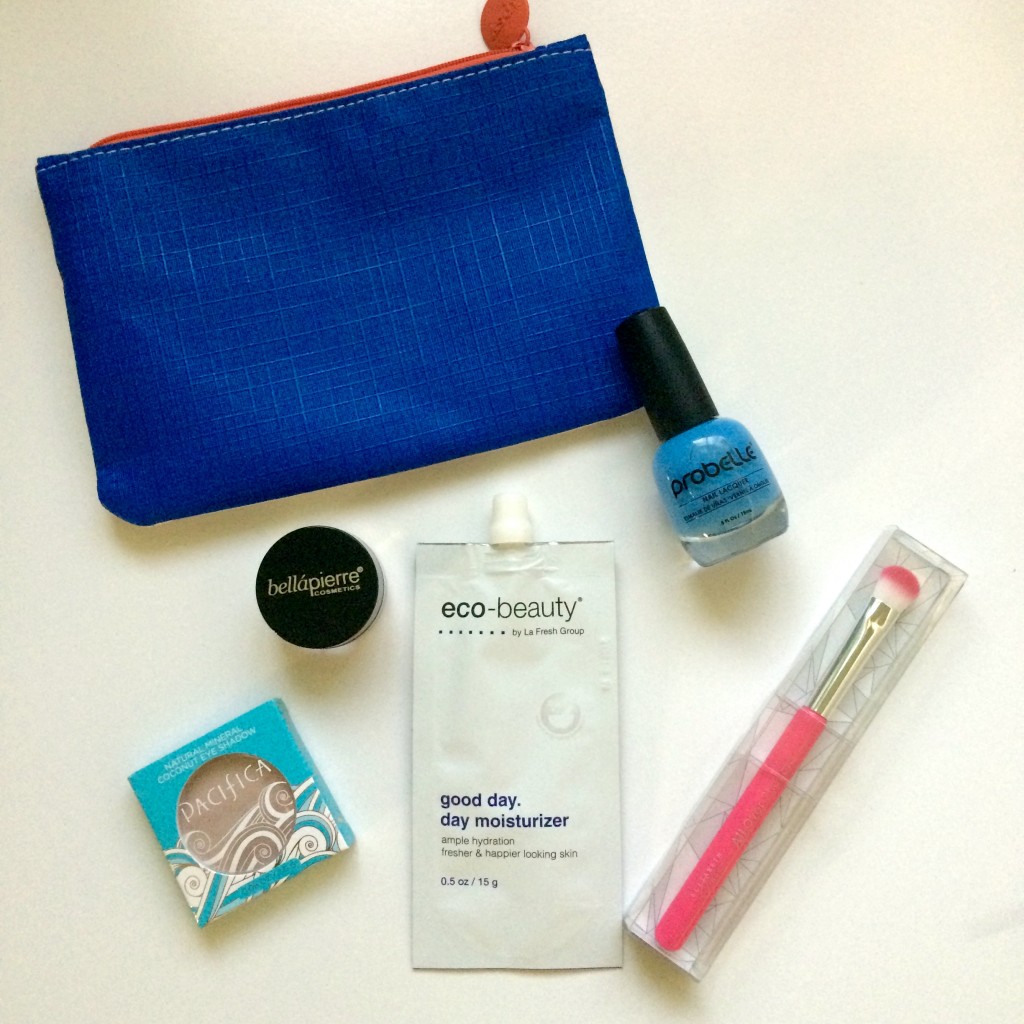 Ipsy Subscription Glam Bag – January 2015
Hi lover! I hope you all had a great (long) weekend. I was so over-the-moon excited to have the day off for Martin Luther King Jr. holiday.
Today I wanted to share with you my Ipsy Glam bag for this month. Ipsy is a monthly subscription service where you pay $10 USD each month and receive full size and deluxe size beauty products. They have a variety from makeup, skincare, hair and nail products. This is about my 7th month receiving Ipsy and most months I have really enjoyed it.
1. Pacifica mineral coconut eye shadow in the shade ethereal. It claims to be a lasting eye shadow that is infused with coconut to create a velvety finish. Pacifica is an amazing brand that is very conscious of healthy beauty ingredients. This eye shadow  is 100% vegan, cruelty free and formulated without FD & C color, parabens and petroleum.
2. Bellapierrecosmetics shimmer powder in the shade celebration. This was the first product I used from my glam bag! I love how it is a loose, pigmented shadow. In the photo above you cannot see the color, but it resembles a burnt orange/gold shade. It is made from 100% mineral powder and can be used as a highlighter as well.
3. Probelle nail lacquer in the shade into the blue. After having my Ipsy subscription for months, this is my first nail polish and I am excited to finally receive one! This polish is free of DBP, Toluene, and Formaldehyde.
4. Eco-beauty by La Fresh Group – good day day moisturizer. I found this product really intriguing for its' eco-friendly packaging. It seems perfect for on the go and although I haven't tried it out yet, I am happy to know it is does not contain the following: parabens, sulfates, triclosan, dyes, PEGs, artificial fragrances and animal byproducts.
5. Elizabeth Mott – All over shadow brush. I am a big, big fan of makeup brushes. I love trying out new ones, and this one is made of synthetic bristles and the pink color is a bonus in my opinion!
If you are subscribed to Ipsy, please let me know what you got in your glam bag! Also, if you are subscribed to any monthly box that you absolutely love, please share with me. I hope you have a great day!
PS: This post is not sponsored and I bought this with my own money girlfriend.