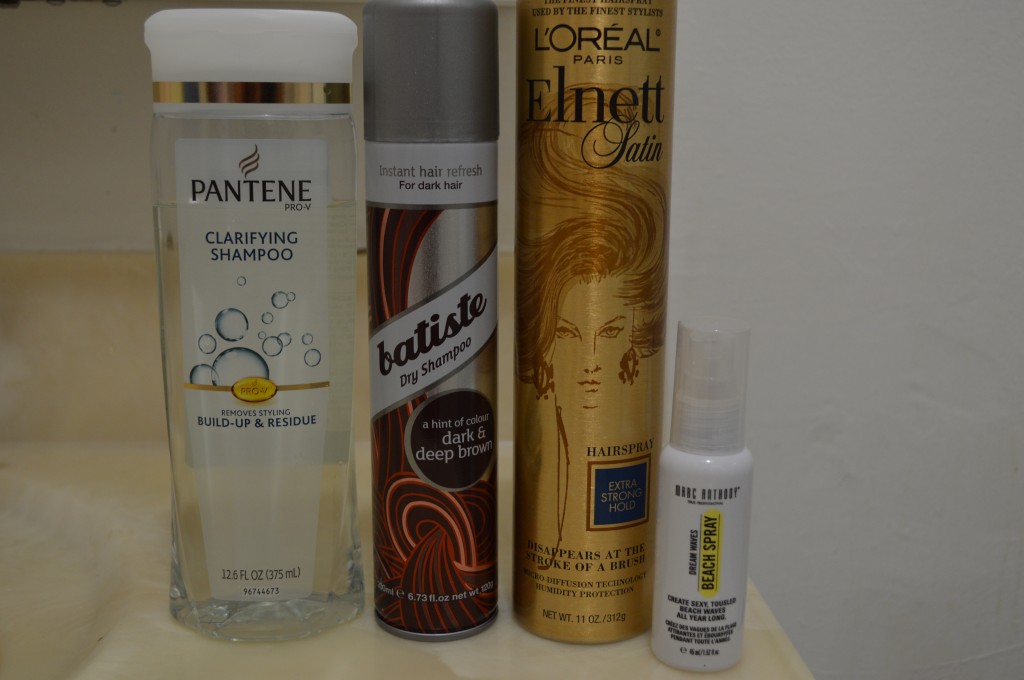 From left to right:
1. Pantene Clarifying Shampoo
2. Batiste Dry Shampoo – dark & deep brown
3. L'oreal Elnett Satin Hairspray – extra strong hold
4. Marc Anthony Beach Spray
Happy Friday lovers! Here are four new hair products I've been using lately and have a few thoughts to share with you 🙂
1. I've been hearing more about clarifying shampoos and how they are great to wash out chlorine found in swimming pools, build up product residue, and if you are exposed to hard water. I wanted to test this product out to see what reaction my hair experienced. After using it once a week for the last month, I can attest that it leaves my scalp squeaky clean, no residue at all! I have really enjoyed it and recommended it to one of my best friends and she loved it too.
2. I have tried dry shampoos before and disliked most of them because of the white cast they leave on my dark hair. This Batiste one is tinted brown and definitely a winner for me!! It smells delicious, absorbs excess oils, and gives the perfect amount of texture.
3. I am on the search for a great and reasonably priced hairspray. I tried the Elnett Satin extra strong hold and it is just that. I would say it is perfect for a slicked back up do, pony tail, or bun. However, any time I use it to hold my curls, it leaves my hair extremely crunchy. For this reason, I will not repurchase it.
4. This deluxe sample of the Marc Anthony beach spray is great! I received it in one of my Ipsy bags and it gives my hair wavy texture. It smells of coconut and the beach, perfect for the summer time.
If you have used any of these products, let me know what you think! Also if you have any new hair products that you are totally loving, please share them in the comments.
Have a great weekend loveys :)!