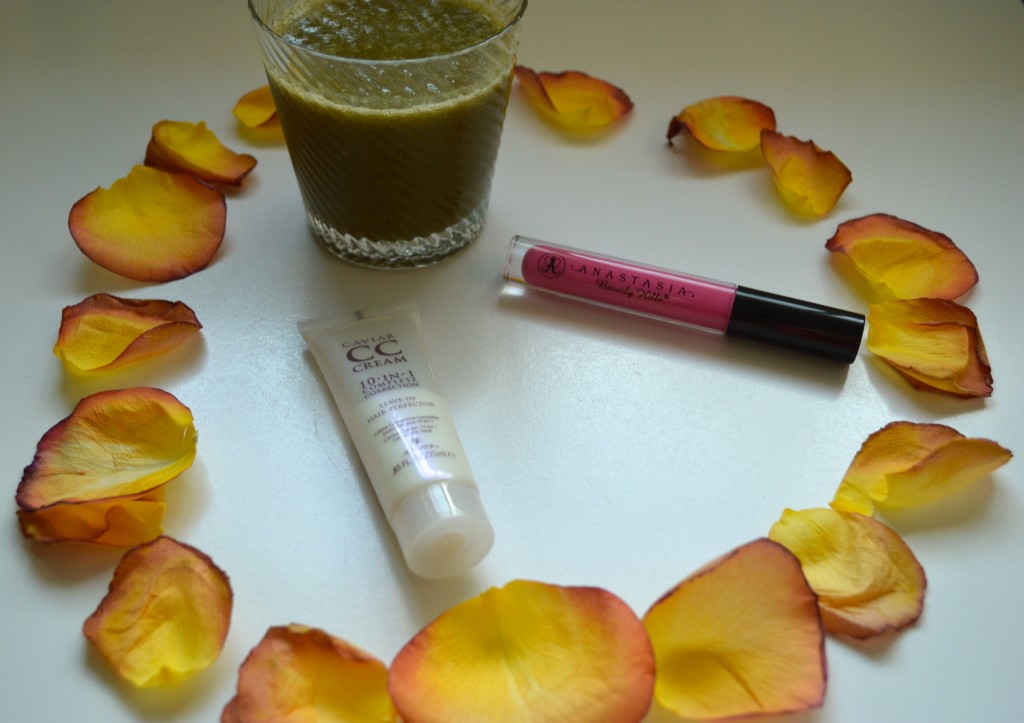 1. Green Juice
2. Anastasia Beverly Hills lipgloss in the shade Doll House
3. Caviar CC Cream (Hair)
Hi lover!  For a few weeks I have been drinking homemade juices for breakfast (about 4 days of the week). I heard the benefits it has on the whole body and also your skin. After consistently drinking them, I can say they have cleared up my skin A LOT! I love the taste, no sugar added, and always mix a bunch of fruits and veggies.
Hot pink lips. Last week I post about my favorite spring lip combinations here. Thanks to my niece visiting last week, she totally got me obsessed with bright pink lip products, I can't seem to stop wearing them!! I was able to get this new lip gloss from Anastasia Beverly Hills for FREE (insert super happy emoji) with the purchase of $35. ABH just released an entire lip gloss collection and the formula is amazing. They are very long wearing and fade out nicely. What I love the most is that the shades are true to the color in the packaging, what you see is what you get.
The Caviar CC cream, I received in one of my old Ipsy monthly bags. Whenever I wash my hair, I usually run this through the ends while my hair is drying. It prevents my hair from getting frizzy and allows it maintain pretty, natural texture. I really enjoy it for avoiding the frizz in this humid Miami weather.
Do you have any good recipes for homemade juices? Please share! Thank you for stopping by.