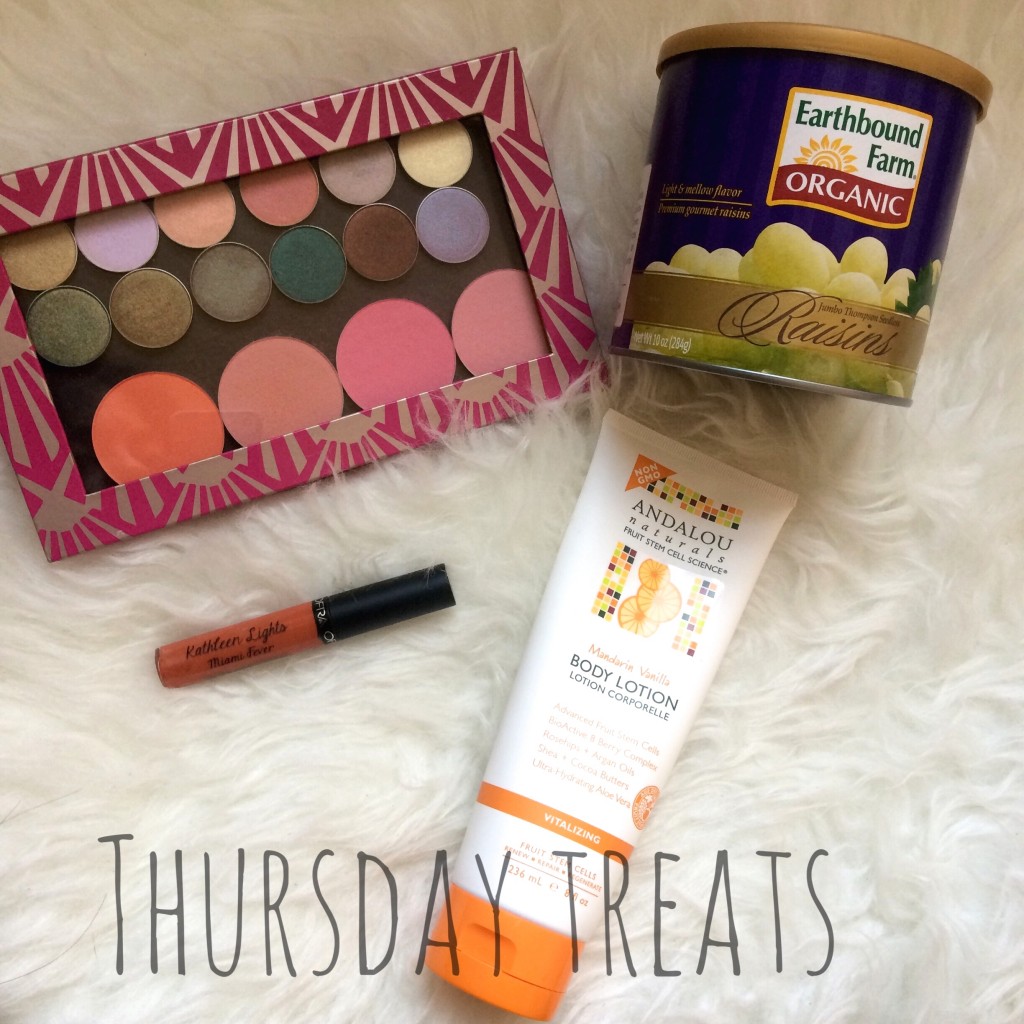 Hi lover! My Thursday Treats series is making a comeback today! Here are a few items I've been loving lately…
Makeup Geek Z-palette: Z-palettes are empty magnetic palettes where you can store any makeup item that is in a pan (eye shadow, blush, powder, contour shade etc.). These palettes come in different sizes and colors and this design is from the brand Makeup Geek and I just love it! Right now mine holds 12 eye shadows and 4 blushes, all from Makeup Geek. I bought it online here.
Earthbound Farm Organic Raisins: Ever since I was little, I loved eating raisins as a snack. These are the best ones I've ever tried! Lately I love adding them to tuna or as a salad topping.. delicious! I bought them at Publix.
Andalou Naturals Body Lotion in Mandarin Vanilla: I've been using this lotion for the last month and it leaves my skin feeling soft and hydrated. It absorbs quickly and the citrus scent is so nice especially to wear throughout the day. I bought it on sale at Whole Foods.
Ofra Cosmetics liquid lipstick in the shade Miami Fever: This lipstick was created by KathleenLights, a beauty vlogger on YouTube. She is an amazing woman and she posts consistently 3 times a week, I love her videos!! The shade of this lipstick is so unique, it's a warm, deep orangey shade. It's sold out at the moment but will be restocked at the end of this month. I bought it here.
What are some products you've been loving lately? I'd love to know and try them out. I hope you have a happy and stress-free day lovers!