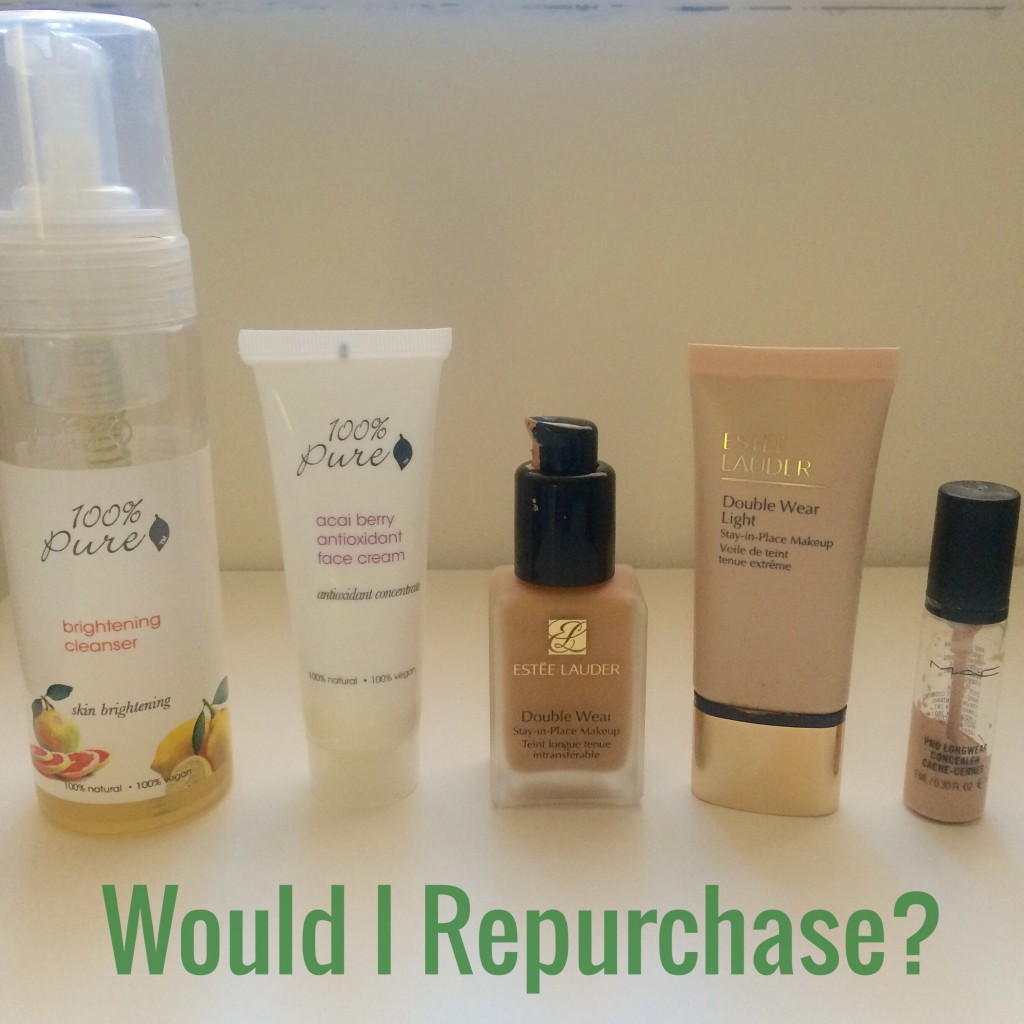 Hi lover! I'm always on the hunt for products that will keep my skin clear and work best for me. I'm starting to run low on several items so this is the time when I start researching new brands to try. Here are some  thoughts of the products I have that are about to finish (from left to right).
100% Pure – Brightening Cleanser: This a foaming cleanser that I use to wash my face in the mornings and sometimes in the shower. While I do really like the brand (100% Pure), I did not find that this cleanser lived up to the claims of brightening my skin. I didn't really enjoy using it, but also didn't want to let it go to waste, so I will not be repurchasing.
100% Pure – Acai Berry Antioxidant Face Cream: This moisturizer smells delicious, feels light on the skin and absorbs quickly. However, I was never blown away with how it made my skin look or feel. I don't plan to repurchase this one either.
Estee Lauder – Double Wear Foundation: This has been my go-to full coverage foundation for at least the last 8 months. It does a great job at evening out my skin tone and it really lasts nicely ALL day. The down side is that Estee Lauder does not care about using healthier, natural ingredients in their products and for this reason I will not repurchase it.
Estee Lauder – Double Wear Light Foundation: This foundation is just a lighter version of the previous one. It lasts just as great throughout the day but it has a much lighter coverage. I would always wear this one when I wanted a natural makeup look. Again, because of the ingredients I won't repurchase it.
MAC – Pro Longwear Concealer: I bought this concealer because all the hype it had among the beauty world. It gives great coverage but it is very drying on the skin. I don't plan to repurchase!
I really avoid wasting money, so I try to use my products even if I don't like them. Although none of these I would repurchase, what are some products you are loving right now? I hope you have a happy day lovers! Thanks for stopping by.