Hi lover! Since you know how much I love organizing stuff in my home, I thought I would share my bathroom storage organization. I've shared a similar post before here, but that was in my previous home, so it looked a bit different. Some of the 'before' pictures below are quite embarrassing that I allowed it to get that messy. I just kept putting it off for no good reason, until I finally decided to clean out all the junk and organize it all. The way my bathroom vanity is now, it has one sink in the middle and counter space on both sides. The left side is mostly makeup and beauty products, while the right side is more everyday products. I have lots of storage space underneath the counter and that is divided into three sections. Here we go!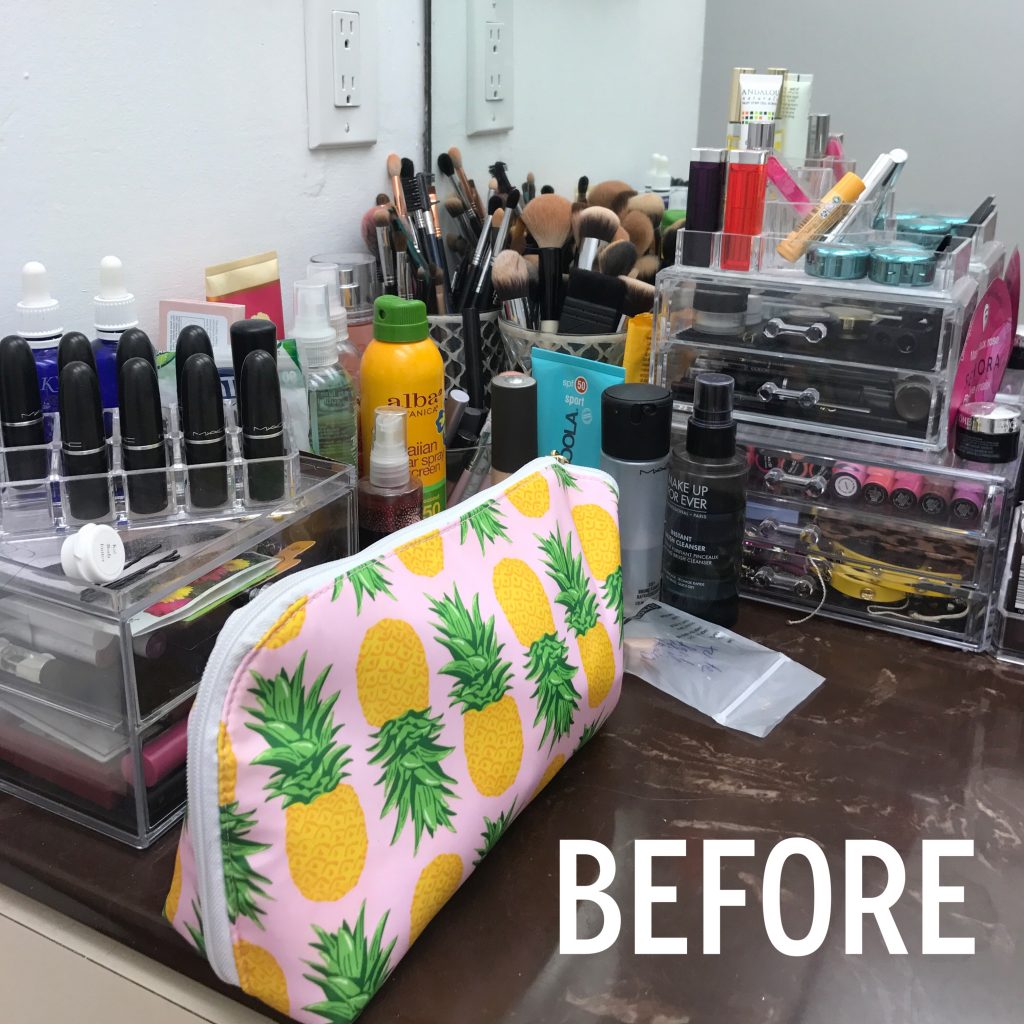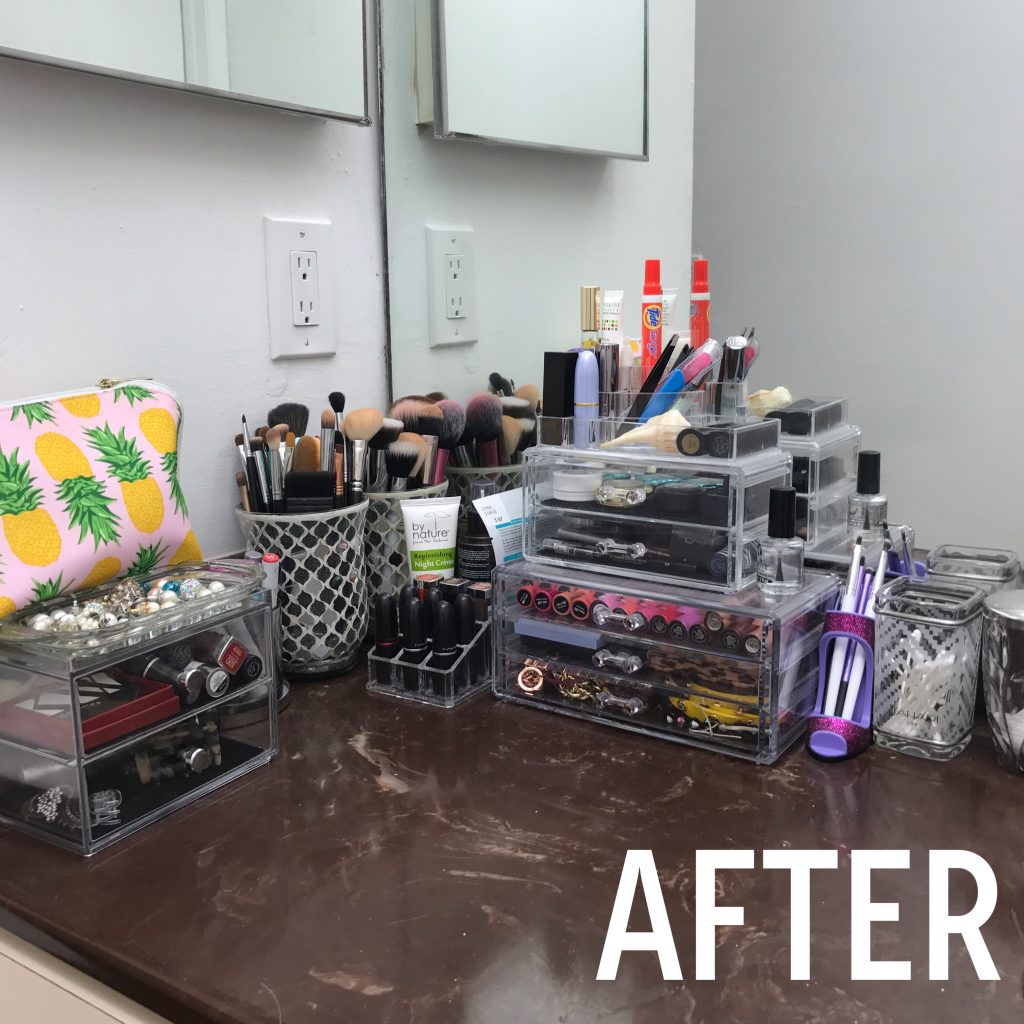 Left side of the sink – with mostly beauty products.
Right side of the sink… much better!
This is underneath the sink, the left cabinet. The bin in the back holds all my travel/makeup bags. The bin in the front has extras of anything I may need. The tie-dye box was a gift box with Lush bath bombs which now holds all my tampons lol. The basket on top of it is for pads.
This is the middle section, right below the sink. The only item I purchased for this organizing project was the turquoise basket (from Target). It holds all my body splashes, extra creams and sun screens. In front of it are two glass containers: one is for cotton balls and the other is for hair ties. On the right side is the same drawer I had in my old bathroom that holds my blow dryer and hair tools. The basket on top of it is for face towels.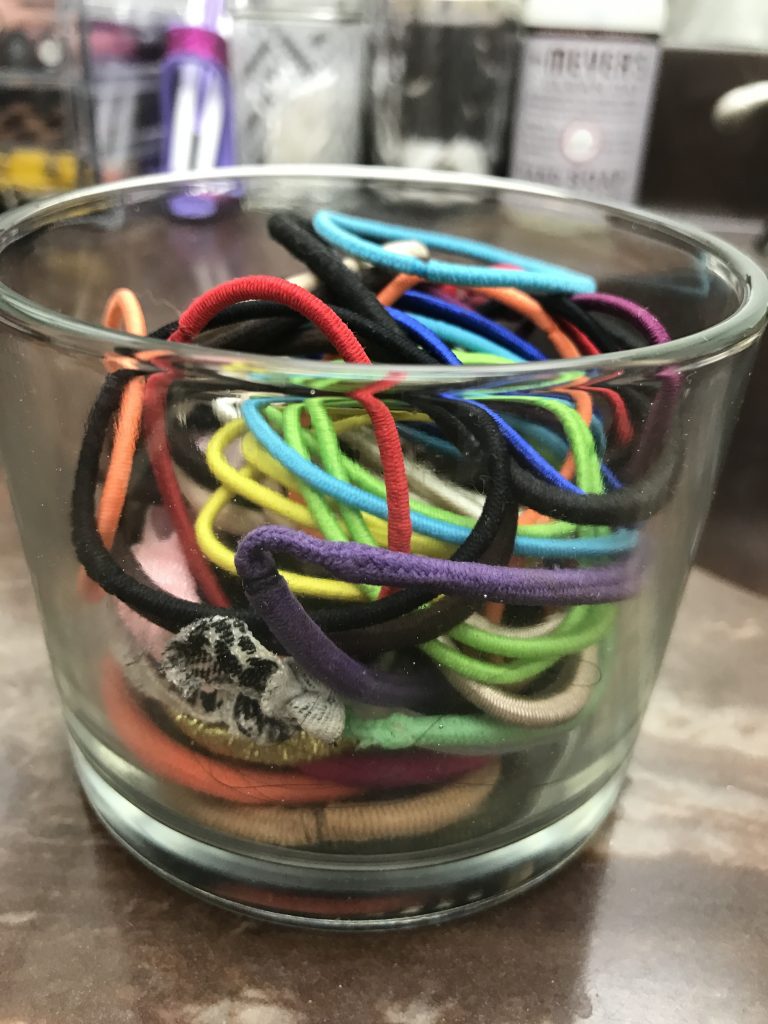 This glass jar was an old Bath & Body Works candle. They're perfect for storage!!
This is under the sink, the left cabinet. Here I use shoe boxes for storage. The silver one in the front has hair brushes and combs, while the ones in the back are all hair products.
I hope you enjoyed the before and afters, as much as I did! What type of boxes or containers do you reuse for storage? I'd love to know. Thanks for stopping by lovers!